Beauchamp Foot Care is committed to helping you look after the on-going health of your feet, and so your general well being. As part of this commitment we offer selected products directly to you that will assist in keeping your feet healthy. When we find products that we believe in, we will be adding them here and providing you with the opportunity to purchase them from our clinic.
The SteriShoe®ultraviolet

shoe sanitiser
The SteriShoe® sanitiser is an innovative foot care product that provides a healthier environment for your feet by sanitising the inside of your shoes. It's clinically proven to be effective in killing up to 99.9% of problematic microorganisms!
Using germicidal ultraviolet light (UVC), the SteriShoe®shoe sanitiser kills the organisms that cause: Toenail fungus, athlete's foot and offensive shoe odour.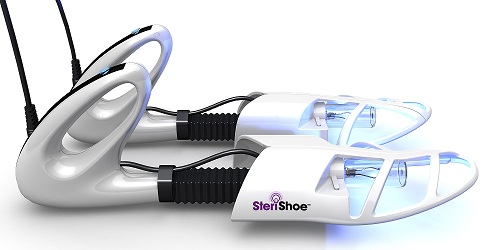 Plus, SteriShoe® is:
Very easy, safe and convenient to use
Completely chemical and drug free
A must as part of your general foot care programme
Available in small, medium and large sizes*
* NB Only small size is currently in stock.
TheSteriShoe®shoe sanitiser is sold in pairs so you treat a pair of shoes with each application. The treatment time is 45 minutes after which the germicidal lamp automatically turns off and theSteriShoe®shoe sanitiser supports the shape of your shoe like a regular shoetree.
People with toenail fungus, diabetes and other foot conditions should be proactive about the health of their feet. Using the SteriShoe®ultraviolet shoe sanitiser provides a healthier environment for feet inside shoes and helps to prevent re infection.
Each order includes: A pair of SteriShoe® shoe sanitisers, 2 shoe bags, 2 UVC lamps, and a power cord.
How to buy SteriShoe®
SteriShoe® is priced at £109.95* per pair. Please ask us about this product when you have your next appointment, or you can order over the phone and we will dispatch to you (postage extra).
To learn more SteriShoe® or other products we may offer, contact us by filling out our form on this page and we'll be in touch with you soon!
Or call Beauchamp Foot Care at 020 7225 0794.
* now on special offer while stocks last – only £54.95 per pair