Beauchamp Foot Care teams up with Sargasso & Grey luxury footwear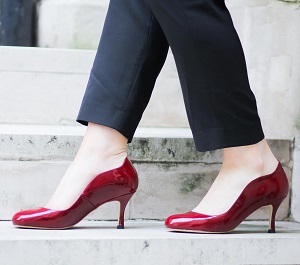 We're pleased to let you know that the podiatry and chiropody team at Beauchamp Foot Care has teamed up with specialist shoemaker Sargasso & Grey to provide our clients with affordable and chic wide fit footwear at a discount.
Having the right footwear that not only looks stylish but is also comfortable to wear is important but can be difficult to find. It's often the cheaper end of the market that specialises in wide fit shoes and the choice is usually limited – heels and designs that look frumpy or just plain ordinary. Sargasso & Grey not only provide wide fitting shoes with that extra comfort, they also make a point of manufacturing chic shoes that are great for any occasion.
It's that personal touch which appeals to many women and if you have non-standard feet there's no reason why you should compromise on style.
The importance of good footwear
Ill-fitting footwear, as we all know, can cause huge problems, not only from rubbing and pushing our toes into unnatural positions, but also affecting posture and gait which in turn can create health issues later down the line. It might make sense to squeeze your feet into the wrong size shoes, even if it's just for a special occasion, but if you want to stay comfortable and have fewer problems with corns and blisters then it pays to have a proper fitting.
For many of us, it's the desire to be more fashionable that leads us to select badly fitting shoes.
A stylish range
Sargasso & Grey produce high quality, home manufactured court and bridal shoes that are available in half sizes, larger sizes and E and EE width fittings. Unlike many manufacturers and suppliers who only produce a narrow range of fittings, Sargasso & Grey believe in catering to those of us who need a little extra room in our shoes. And they don't compromise on the style either.

Find out more about the Sargasso & Grey range
You can discover more about their shoe range when you come for your next visit at Beauchamp Foot Care and get some advice on the right kind of shoes for you. At Beauchamp Foot Care we see the effects of ill-fitting shoes every day and know that just a few simple changes can make a big difference to the health of your feet.
Receive a 10% discount
As part of the special arrangement with Sargasso & Grey we are able to offer shoes at a 10% discount for clients who use our service. Simply ask for full details next time you visit, or give us a call. You can also order direct from the Sargasso & Grey website and simply quote our unique promotional code (conditions apply, subject to availability).
It goes without saying that your feet are one of the most important parts of your body and neglecting them can cause numerous problems. By teaming up with a luxury shoe company like Sargasso & Grey we hope to provide our clientele with more options that help them stay comfortable but remain stylish at all times.
Contact us today at Beauchamp Foot Care to claim your 10% discount for Sargasso & Grey.
All information on this website is for general guidance only and is not intended as a substitute for the personal medical advice of health care professionals or your own doctor.