Call 0800 907 0093 or complete the form below.
At Beauchamp Foot Care, we offer a no-obligation consultation. This enables time for us to carefully examine your nails and give you a diagnosis. As there are other conditions that may appear to be fungal infections, we find that a number of patients we see do not actually have the condition. In which case, we will advise
on the most appropriate course of action.
During this consultation we will explain the procedure and answer any questions you may have. We will also discuss alternative treatments and your suitability for laser treatment. Click here to learn more about the Lunula Laser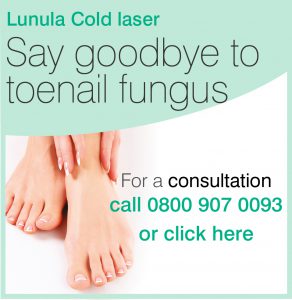 If you decide to proceed with the laser treatment, we will take photographs of your nails to provide a record of their condition. Preparation work on the nails is then carried out including painlessly debriding your nails (removing damaged tissue) both manually and electrically. This preparatory work is covered in the cost of your treatment.
Fill out the form to the right for more information or to book your appointment today!
Terms & Conditions
Please download, print out, read and sign these terms and conditions and bring with you when you attend your first appointment.
Click here to download PDF
Contact Us
We will only use your personal information to administer your enquiry and provide any services you have requested from us. For more information, please see our Privacy Policy.