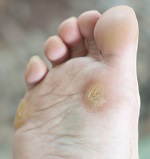 Verruca and Wart Treatment
Verrucas are warts that usually develop on the soles of the feet.
They are very common and are caused by an infection with the human papilloma virus (HPV).They can look unsightly and are sometimes painful. The virus causes an excessive amount of keratin, a hard protein, to develop which produces a rough, hard texture. Verrucas are very contagious and can be passed on by skin-to-skin contact or even indirectly, for example, at swimming pools.
Verruca removal
The podiatrists Beauchamp Foot Care each have more than 20 years experience in treating foot conditions.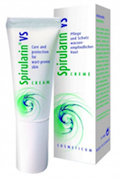 There are a number of treatment options generally available including cryotherapy (freezing), surgery or the application of chemicals. At Beauchamp Foot Care we can discuss the various treatment options with you, however we are pleased to offer a highly effective treatment called Spirularin VS®.  Spirularin VS is a special cream that promotes regeneration of the affected area. Spirularin VS contains a highly concentrated, patented microalgae extract that is proven to provide effective protection from verrucas and warts. Spirularin VS is effective even on stubborn verrucas. It has no known side effects and is also safe for use by children and patients with medical conditions such as diabetes.
Warts and verrucas can sometimes be difficult to remove and success cannot be guaranteed. They may even return at a later date. However, our recent experience of using this treatment has shown an impressive success rate.
For more information on treating warts and verrucas contact us on 020 7225 0794 or use the contact form on this page. You can also read more about verrucas and Spirularin VS on our blog.

Verruca treatment pricing

Initial consultation (required)
£90 including a standard chiropody treatment.
Please note that Spirularin VS is only offered in conjunction with an initial chiropody treatment to enable us to properly assess the condition and provide correct treatment advice.
Spirularin VS®
£20 per tube with 3 – 4 tubes required per course of treatments.

Cryotherapy
Cost per treatment - £70
A minimum of two treatments are required and, depending on the size and depth of the verruca, more sessions may be needed.

Terms and Conditions
Please print out and bring with you a signed copy of the Terms & Conditions on your first appointment.
Contact Us
We will only use your personal information to administer your enquiry and provide any services you have requested from us. For more information, please see our Privacy Policy.