London's best answer for nail fungus


 

treatment is at our nail laser clinic
If you are suffering from toenail fungus, you might be wondering what nail fungus treatment options are available for you. Many of our patients struggle with the issue of toenail fungus. There are several effective treatments available. Often people who suffer from toenail fungus will try to correct the issue with oral medications, topical treatments or laser treatment.
Oral Medications used for toenail fungus treatment often come in the form of a pill that enters the blood stream and works by attacking and killing the fungus, slowly allowing the infected portion of the nail to be replaced naturally.
Topical treatments include oils, lacquers or creams. Their effectiveness is usually related to how severe the fungus is. Both oral medications and topical treatments can take many months for effective toenail fungus treatment. Some patients also express difficulty in remembering to use the medication daily.
Lunula Laser Treatment At Beauchamp Foot Care our main nail fungus laser treatment uses the Lunula Laser. The laser kills fungus that lives in and under the toenail. The laser light passes through the nail without causing damage to it or the surrounding skin. Safe and effective, the Lunula Laser poses none of the risk and harmful side effects of anti-fungal medications.
Plus, this convenient in-clinic procedure typically takes only minutes to perform, with no recovery time required. The Lunula Laser is a low-level laser that effectively and safely treats unattractive, discoloured toenails.
As the toenail begins to grow out, improved results should clearly be seen, depending on how fast your toenails grow and the severity of the condition. Patients appreciate being able to have the treatment carried out, immediately put on normal socks or shoes and walk out of our clinic able to return to their daily activities.
To learn more, contact us by filling out our form on this page and we'll be in touch with you soon!
In just
12 minutes per foot

, nail fungus treatment using laser technology could help you be on your way to beautiful toenails again.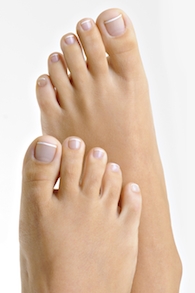 100% safe
Uses low-level laser light to painlessly kill nail fungus
No oral or systemic drugs
Takes only 12 minutes per foot to complete
No downtime required
No unpleasant side effects
Effective for toenails and fingernails
Suitable for all ages
Cleared for use in Europe according to the Medical Device Directive (93/42/EEC)
Our Clinic Offers:
An initial consultation for your toenail fungus treatment
Easy access – we are based in Knightsbridge, London (close to Harrods)
Extended opening hours and Saturdays
Symptoms of Toenail Fungus
To learn more, contact us by filling out our form on this page and we'll be in touch with you soon!
Contact Us
We will only use your personal information to administer your enquiry and provide any services you have requested from us. For more information, please see our Privacy Policy.