Club Feet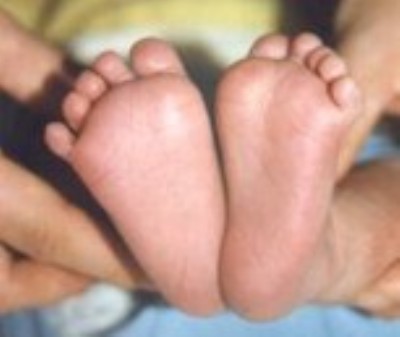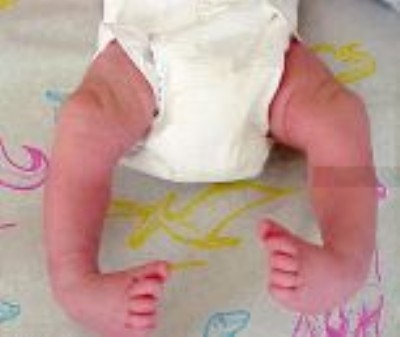 Today's blog is about club feet "Congenital Talipes Equinovarus' A condition at birth where the baby's feet are either pointing inwards or outwards. As with most conditions the degree of severity or disability varies some people have a very mild form which causes little suffering whereas others can be severely affected. It can also affect both feet or just the one.
On the left is a baby with club feet and on the right a baby without.
The cause of club foot in most cases is not known. It can occasionally run in families and those that have club feet in the family are 20 times more likely to have another child with the condition. Club foot occurs where the muscles on the outer side of the leg are weaker than those on the inside. The tendons on the inside of the leg also become shorter than normal. Tendons are the tough cords that connect muscle to bone. In this condition the bones of the feet are abnormally shaped and the Achilles tendon is tight.
There are different thoughts on the best way to treat club feet. In some very mild cases club feet is a mild and temporary deformity where all that is required is leaving the baby to kick around and the feet go back to the normal position, this is basically where the baby has had a small space in the womb to kick around and therefore the baby's feet only seem to appear clubbed. Sadly however true club feet are not so easily resolved without either surgery or months of painful strapping.
The Ponseti Method involves starting treatment on a baby within a week or two of being born. It is a treatment technique which involves the baby's foot/feet being gently manipulated into a position and put in a cast. The NHS site refers to this as being a painless experience for babies, I do however have to disagree with this statement. I have done a lot of research on this subject and have found through my research and using my own personal experience that this is not the case.
The manipulation continues over a period of several weeks and on average five weeks. After which the baby has to wear special shoes that are attached to a bar which pulls the feet into a normal position. This treatment will usually continue until the child is about four years old.
Although this is a difficult process for both the baby and the parents it is an effective treatment in around 85% of babies with club feet. In order for the treatment to remain effective it is necessary that the tough regime be adhered to to prevent the club foot re-occurring.
After the Ponseti treatment it may be decided that surgery is required to release the tight tendon at the back of the heel . It is a minor operation that most babies with the condition will require. This surgery can often be done under local anaesthetic. Some children may require further surgery between the ages of two and seven years of age.
As in most areas of life the treatment for club feet has evolved and changed over the years. Today thankfully children born with one or two club feet have a much better long term prognosis than those born some decades ago. Today in most cases of club feet the outlook is positive, most individuals are able to wear regular shoes and lead active lives. However, if club foot is not appropriately treated the abnormality may become fixed. This fixation affects the growth of the child's leg and foot and can lead to permanent disability.
In the 1950s, club foot was treated very differently. In those days babies with club feet would often have their feet bound to correct the position. The bandages would be changed on a monthly basis and each time the position of the foot would be moved corrected further. This did cause pain to the baby and upset for parents. If this was not successful then operations to fix the baby's foot,feet into the right position would be carried out. Followed by months of plaster to keep the new position. It would have been a very difficult time for both child and parents.
Adults today that have been through this kind of corrective treatment may find that they are more disabled that their counterparts of later years as medical science has progressed. It is important that everyone maintains foot hygiene but it is probably even more important where there are already difficulties. Those with club feet may have high arches, rough skin especially on the parts of the foot that are more heavily used. sometimes toes can be clawed over, in this case the toes are often hard and brittle due to being walked on. Seeing a podiatrist on a regular basis can help to maintain feet health and also pick up any areas of concern.
Here at Beauchamp Clinic we have a good team of highly qualified podiatrists that are able to treat all feet conditions In particular I (Fiona Patterson) have a special interest in Congenital Talipes Equinovarus (club feet) and have been treating this condition for several years.
All information on this website is for general guidance only and is not intended as a substitute for the personal medical advice of health care professionals or your own doctor.