Don't Be Afraid to Bare Your Feet in Summer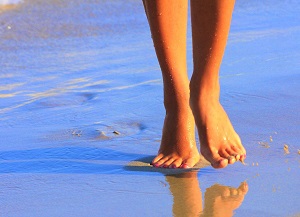 Are you hiding away your feet at the height of summer? Have you decided sandals and barefoot walks are just not for you? Embarrassed to sit on a lounger and let your feet breathe? A visit to a chiropodist or podiatrist this month could well change your mind. Rather than hide your feet away, you'll soon be showing them off to the whole world.
At Beauchamp Foot Care we're pretty good at getting those feet ready for the summer months. Whether you want to feel the sand between your toes, go to a barbeque in open toed pumps or simply wear a pair of sandals out to the park, a little love, care and attention could be all you need. It's surprising the number of people who conceal a foot problem and don't do anything about it.
Our experienced chiropodists and podiatrists will be able to assess the condition of your feet in just a few minutes. You may just need one of our standard pedicures or you might benefit from something more intensive for a stubborn fungal infection to start getting your feet ready for summer. Most of the treatments we provide are non-invasive and really quite relaxing.
Whatever your feet need, you can be sure by the end of your visit you'll start to feel a lot more confident about exposing your toes to the sun. It can take between 30 minutes and an hour for us to give your feet a professional pedicure that will look great in sandals or open toed shoes.
Ways to Get Your Feet Sandal Ready
Treat those nails: If you have a fungal toenail infection then you may feel shy about showing your feet in public. The good news is that there is a state-of-the-art treatment available from Beauchamp Foot Care that can return your nails to pristine condition. You won't have to hide away your feet with this safe, painless, hi-tech treatment that delivers proven results. Be aware though, that nails take quite a while to grow out, so whilst you can be on the right road to fixing them, patience is needed!
Give yourself a 30-minute foot service: Under the skilled hands of a qualified chiropodist, why not give your feet a skin and nail rejuvenating treatment? That includes trimming and filing your nails and the removal of unattractive areas such as callouses and corns. Our standard treatments start with a soothing footbath and you'll leave feeling confident your feet are fit for the world at large.
Go the whole hog with a medical pedicure: It takes a bit longer because a medical pedicure is a more intensive treatment. We take a look at your cuticles and give you a cleansing foot scrub followed by a relaxing massage. To top it off, we'll paint your nails the colour of your choice, or just buff and polish them if you prefer. If you have a party at the weekend your feet will be in the best condition you've seen them in a long while.
Problem Treatments: You might have foot problems that need a more focused treatment than a straight pedicure. For a problem such as a verruca we recommend various options including our highly effective Spirularin VS cream. It's an effective solution and not only gets rid of the verruca but also helps regenerate the surrounding skin.
Don't let your feet stay hidden away this summer. Visit our clinic for a full, professional consultation and leave with the confidence to show your toes to the world. To book an appointment call us on 020 7225 0794 or use our contact form.
All information on this website is for general guidance only and is not intended as a substitute for the personal medical advice of health care professionals or your own doctor.