Flip-Flops: The Dos and Don'ts of Wearing Them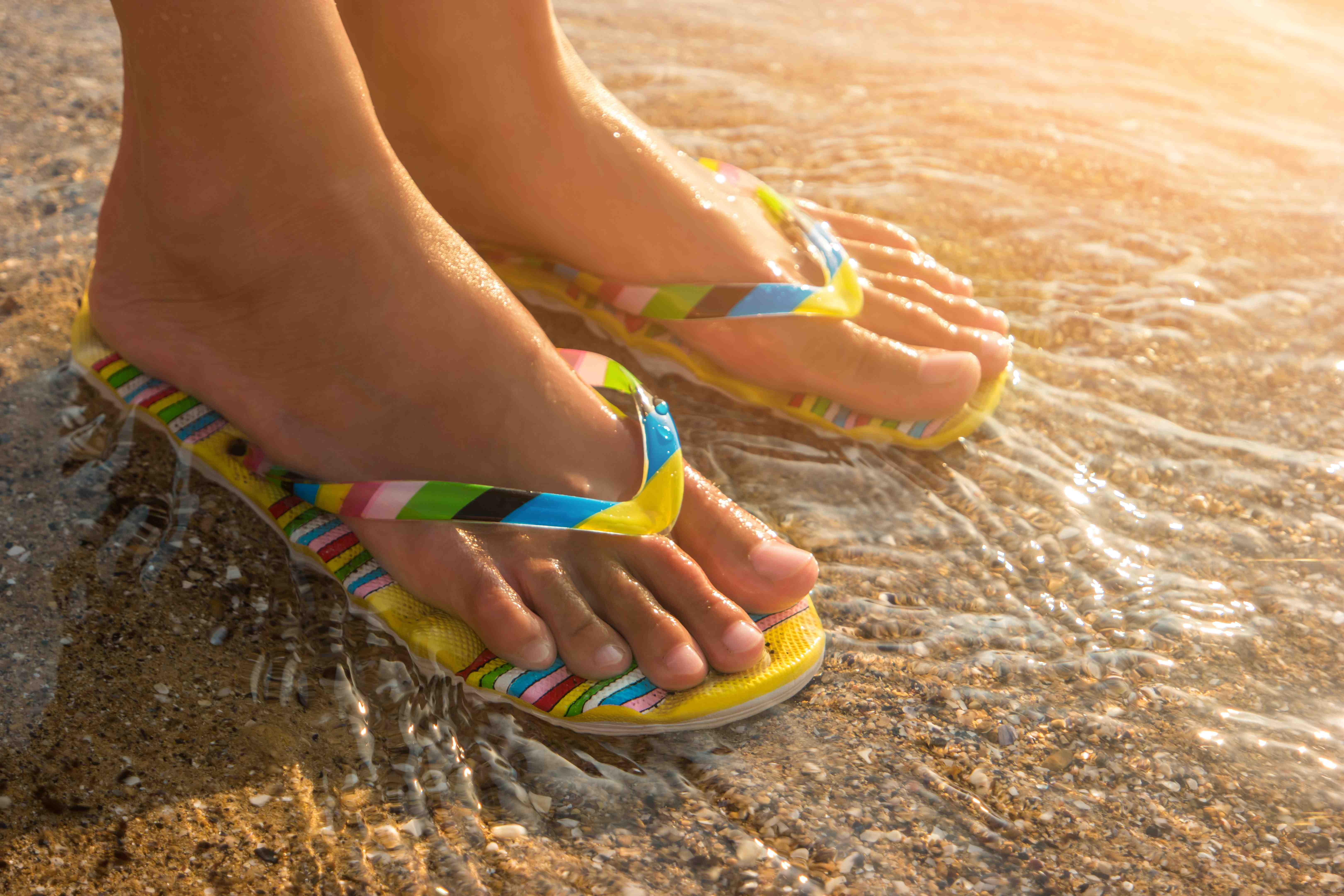 With summer getting into full swing, many of our patients at Beauchamp Foot Care in Knightsbridge have been asking us about one particular piece of footwear. The flip-flop has been around for many years and is popular both on the beach and by the poolside on holiday.
There's evidence that the flip-flop design was just as popular over 6,000 years ago in Ancient Egypt. It's one of the simplest forms of footwear and remains a staple in many people's wardrobes today, especially when the sun comes out.
Do Buy Quality
While they may seem like a 'throw away', cheap option, spending a bit more money on your flip-flops can make a substantial difference to your foot health. Not only will quality products last a lot longer, they also protect your feet better and provide more comfort.
Do Buy the Right Size
Damage to the feet can occur if you have poor fitting flip-flops. If your foot or toes are hanging off the side they can sustain an injury from the ground around you. Always buy flip-flops the same way that you buy other footwear. A product with a good base that folds at the ball of the foot and isn't too flimsy is as important as choosing the right size.
Do Wear Flip-Flops 
In areas such as around the pool or on the beach, and even if you are in your hotel room, it is much better to wear flip-flops than to walk around barefoot. At the pool side, you can easily pick up infections such as warts and verrucas or athlete's foot because your feet are unprotected. You'd be surprised by the number of patients we get in our clinic after a holiday away where they have picked up an infection because they have been walking everywhere without protection on their feet.
Don't Ignore Itching
If you are wearing a pair of flip-flops all day, you might notice some itching between the toes where the thong is. This shouldn't be ignored and can cause blistering and infection if left untended. If you have a condition such as diabetes, which means that you may have less sensation in your feet and toes, always check this area at regularly intervals to make sure there is no damage.
Don't Walk Long Distances
Flip-flops are great for around the pool or walking in the hotel but they're not the best footwear for long distances. If you're going for a walk make sure you wear supportive shoes that are designed to protect your feet.
Don't Garden or Work in Flip-Flops
They may seem convenient but you shouldn't be wearing your flip-flops when you're doing things like gardening or work in the house. That's because there's little or no protection for your feet that most other footwear affords. Neither should you play sports in flip-flops as they don't provide the support you need and can cause damage to your toes as well as putting you at risk of a twisted ankle.
If you have any problems with your feet after spending some time in flip-flops or just want to get them ready for the summer, it's always sensible to visit a professional. Our team at Beauchamp Foot Care in Knightsbridge are all registered with the Institute of Chiropodists and Podiatrists and Health Professions Council. Contact us today to book a consultation.
All information on this website is for general guidance only and is not intended as a substitute for the personal medical advice of health care professionals or your own doctor.