Foot Care Tips from a Chiropodist in London to Get Your Feet Through the Rest of Summer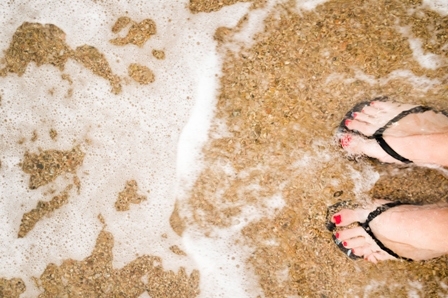 There are still a few weeks of summer left to enjoy, which means your feet don't have to worry about being cooped up inside socks and boots for a little while yet. Summer is the time of year to let your feet get a breath of fresh air, but there are some things to keep mind. A chiropodist in London at Beauchamp Foot Care offers some tips to keep your feet safe and comfortable for the rest of the summer season.
Wear the Right Kind of Shoes for What You're Doing
Whether you're on holiday or staying close to home, summer is the ideal time to try out different kinds of activities. Any time you are doing a new activity that involves your feet you want to make sure you are wearing the appropriate foot wear. For example, you'd wear a sturdy pair of good hiking shoes if you were visiting the mountains, flip flops at the beach or a comfortable pair of walking shoes if you're doing a lot of sightseeing. The chiropodists in London at Beauchamp Foot Care can help recommend the best type of foot wear for your adventures.
Protect Your Exposed Feet with Sunscreen
It's probably been a few months at least since your feet have seen the sunshine, therefore they'll be more susceptible to getting sunburned. If you'll be wearing sandals a lot or spending hours on the beach, be sure to apply sunscreen all over your feet, especially the top of your feet and your ankles. It's important to reapply the sunscreen after taking a swim. If you're planning on being in the sun for an extended period of time, stay hydrated for both your well being and to reduce the amount of foot swelling that can be caused by warmer temperatures.
It's Best to Not Go Barefoot
You usually don't have to worry when you go barefoot around your own home or garden, but when you're in public places like hotel rooms, swimming pools or even the beach, you are more prone to attract certain foot problems. The chiropodists in London at Beauchamp Foot Care often see foot conditions like athlete's foot, verrucas, toenail fungus or other infections. To protect yourself, wear flip flops or sandals when you are in public places.
Visit a Chiropodist in London at Beauchamp Foot Care
Your feet deserve a relaxing chiropody treatment to keep them healthy. Beauchamp Foot Care offers multiple treatments that include a footbath, cutting and filing of the nails, removal of corns and calluses, ingrown toenail treatment when necessary, foot scrub, and massage.
Our chiropodists in London will provide you with the highest quality of service. Contact us today!
All information on this website is for general guidance only and is not intended as a substitute for the personal medical advice of health care professionals or your own doctor.