Welcome to the All New Beauchamp Foot Care Website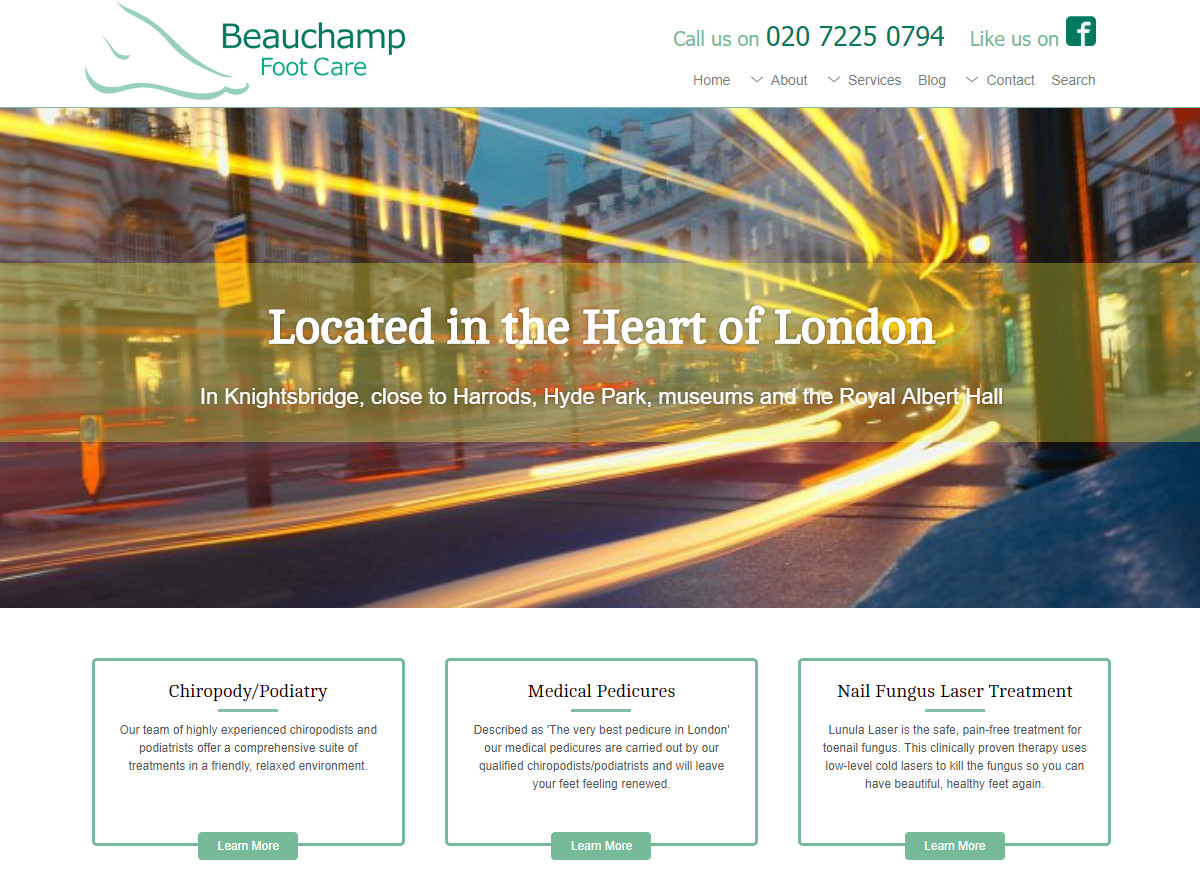 With over 25 years delivering foot care and podiatry services, we thought it was time that we treated our Beauchamp Foot Care website to another complete makeover.
You'll find all the information you need on how to keep your feet in tip-top condition with our brand new layout that's easier to navigate.
Explore how we can eliminate nail fungus, remove verrucas, treat ingrowing toenails, give your feet a restoration with our Wilde-Pedique toenail correction procedures or simply treat them to the ultimate reconditioning service with one of our medical pedicures. There are also some informative blog posts that tell you all you need to know about the world of feet.
Book a Medical Pedicure Today
Our new site makes it even easier to book an appointment with one of our fully qualified podiatrists/chiropodists.
A medical pedicure is the perfect way to get your feet ready for action and is a much more thorough treatment than you'll get from a typical high street nail bar. We're highly qualified in all areas of podiatric care and use the latest techniques and equipment to help our patients look after their feet. If you want better care and better hygiene, you can book with Beauchamp Foot Care in Knightsbridge today.
Nail Fungus Treatments
We know how upsetting nail fungus infections can be. These often appear out of the blue and can be difficult to get rid of using off the shelf solutions. Our qualified team will be able to assess your condition and use state of the art treatments that painlessly attacks the fungus beneath your nail.
We offer an initial consultation if you think you have a toenail fungus issue, so why not book an appointment today and start the process of ridding yourself of the problem?
Verruca Removal and Ingrowing Toenails
Verrucas can be very inconvenient, unsightly and painful – that's why you should let our professional podiatry team tackle your verruca and eradicate it for you. Or if you're suffering from an ingrowing toenail we can carry out a minor surgical procedure under local anaesthetic that eases the pain and improves your nail.
Also at the clinic we offer regular sessions by fully qualified reflexologist Jeremy Snell who is a member of Association of Reflexologists. Jeremy has worked with many of our patients, helping them to relax and improve their overall wellbeing.
Based near Harrods in Knightsbridge, Beauchamp Foot Care comprises a team of highly qualified podiatrists and chiropodists with decades of experience. If you want to give your feet the care they deserve, book an appointment with our friendly practitioners today.
In the meantime, enjoy our new site and do let us know what you think!
All information on this website is for general guidance only and is not intended as a substitute for the personal medical advice of health care professionals or your own doctor.