Why Your Feet Need a Chiropodist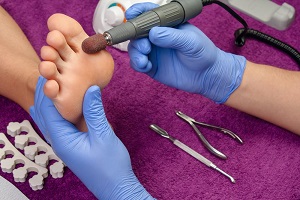 Paying a visit to a chiropodist who has the expertise and right equipment can help ensure your feet don't suffer from problems in the future.
Whilst many of us work hard to look after ourselves, eating the right food and undertaking regular exercise, the one area that we often neglect is our feet. Maybe it's the fact that they spend most of the day hidden in shoes or covered by tights and socks. Like teeth, though, making sure your feet are in good condition and having a regular check-up can help prevent a lot of potential problems from developing.
Whilst visiting a high street nail bar once in a while can make you feel better, having regular appointments with your chiropodist or podiatrist offers a much wider range of benefits. Chiropodists are highly qualified and are trained to spot the tell-tale signs of foot damage and skin or nail problems, compared to a nail bar where the offering is more cosmetic.
9 Reasons to choose a chiropodist
There is often a big difference between having a pedicure at your local nail bar and one carried out by a chiropodist, including the equipment used, the skills incorporated, and the level of hygiene that is adhered to.
A chiropodist or podiatrist will be able to give you valuable insights about your foot care. Not only can they provide treatments to keep your feet healthy they can also spot possible problems that may develop into chronic and life changing conditions if left untreated.
Rather than simply a cosmetic treat, a visit to the chiropodist is a semi medical procedure that is carried out by medically qualified staff who know exactly what they are doing.
Because these are medical procedures, the staff adhere to high levels of hygiene which means that all equipment is either properly sterilised or disposable and patients are not put at risk from cross infections.
Whereas a beauty technician may well be able to take a superficial look at something like a callous or corn they may have neither the equipment nor the specialist training to deal with it properly.
A podiatrist can also take a look at your existing footwear, for instance, and suggest better choices that will not only improve your general everyday comfort but also prevent more serious conditions from developing.
Whilst most of us take it for granted that we can cut our own toenails and or care for the skin on our feet, others find it more difficult because of age, medical or physical conditions and need a professional who not only has the expertise but is aware also of problem signs to look out for.
A qualified chiropodist will be able to assess whether you would benefit from seeing a podiatrist who has a special interest in lower limb and foot problems. These can include areas such as orthotics (shoe inserts) and musculoskeletal and biomechanical issues that can affect gait and balance.
Chiropodists and podiatrist are qualified practitioners who should be members of a professional body such as the Institute of Chiropodists and Podiatrists and will have health care qualifications.
Areas where your chiropodist or podiatrist can help
There are a number of everyday foot problems that a chiropodist/podiatrist can help with, the most common being bunions, corns and verrucae, as well as nail conditions, heel pain and ingrowing toenails. People who suffer from complaints such as diabetes or have bone deformations that come with conditions like arthritis will also benefit from regular visits to a chiropodist.
Diabetics should be seeing a professional such as chiropodist every month as conditions such as foot ulcers and sores that go septic can be a serious problem and in extreme cases could even lead to amputation. People suffering from diabetes unfortunately can have a dulling of their pain receptors which means they often can't feel if something is wrong or not. That means damaged areas of the foot may be left until they become infected.
For those without an obvious medical condition to worry about, regular check-ups and maintenance can help stop problems from occurring. For the rest of us, removing bunions, verrucae, callouses and corns, or treating a fungal infection, can make our feet more attractive and walking more comfortable. Plus cutting those nails properly can stop conditions such as ingrowing toenails from forming.
Whilst visiting a nail bar or beauty salon might make your feet look attractive for a short while, a qualified chiropodist or podiatrist can make sure you look good but help ensure you are also in tip top foot health at the same time.
If you would like to make an appointment to see a qualified foot care expert contact us today.
All information on this website is for general guidance only and is not intended as a substitute for the personal medical advice of health care professionals or your own doctor.