Wilde-Pedique: The Perfect Makeover For Your Toenails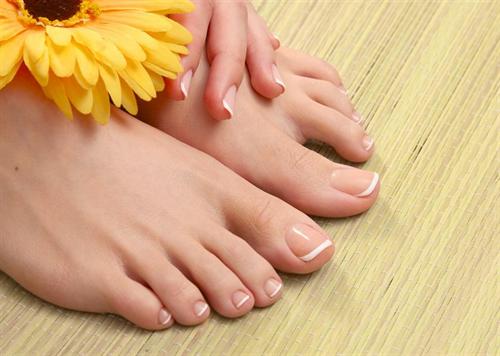 If you've been stood on your feet all day, you'll probably be forgiven for thinking there's nothing you can do about those bruised and battered toenails. There's some brilliant news though – pop down to Beauchamp Foot Care in Knightsbridge and you can try our Wilde-Pedique Plus nail treatment.
Should you want to transform your nails and wear those open toed shoes and high heels, the Wilde-Pedique procedure is designed to give you a complete makeover. It's suitable for concealing and correcting a whole host of nail problems and instantly gives you the confidence to step out and bare your nails to the world.
Wilde-Pedique at a glance:
Developed by Light Concept Nails, this is the gel nail repair and reconstruction cosmetic treatment especially designed for your toes.
Wilde-Pedique is suitable for concealing those unsightly nails, especially those with a fungal infection, bruised or damaged nails as well as repairing the cracks and splits.
It works on a range of surfaces and its non-porous nature can help protect your nail while making your feet look fabulous.
You'll keep the underlying nail healthy because the gel contains Piroctone Olamine, an anti-mycotic that can also combat fungal infections.
If you have weak or damaged nails it can give them time to grow and repair rather than being permanently damaged by your footwear.
One of the key benefits is that Wilde-Pedique is flexible and moves with your nail which makes it feel and look natural.
We've had positive results from both male and female patients who have tried the Wilde-Pedique Plus system. You will be assessed before you have the treatment to make sure that your nails are suitable. And then, if appropriate, the procedure is carried out by a qualified podiatrist. The gel resin will grow out naturally as your nail develops and simply needs to be replaced every so often to keep your feet looking sensational. Once the gel has been added, you can then apply the polish of your choice.
Professional treatment
At the Beauchamp Foot Care Clinic, we're always searching for innovative products for our patients. Visiting a professional podiatrist gives you a whole lot more than you get from popping into the local foot spa. First of all, you can have your feet properly assessed by a qualified podiatrist with over 25 years' experience of foot care. That ensures the treatment you receive is both suitable and needed.
We often take feet for granted, so a cosmetic repair treatment like Wilde-Pedique can make them look great and give you plenty of confidence when you're out on the town, wearing those open toed shoes.
If you want to find out how you can transform your toes, book an appointment with Beauchamp Foot Care in Knightsbridge today.
All information on this website is for general guidance only and is not intended as a substitute for the personal medical advice of health care professionals or your own doctor.